Mena
Innovation is key at Le Royal Hotels
Nather Auchi, vice president of Le Royal Hotels & Resorts, reveals how businesses should differentiate themselves beyond good service.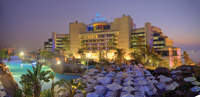 The world of tourism and hospitality has evolved rapidly in the past decade, much faster than any of us in the industry would have thought possible. Whether you're a hotelier, tour operator or restaurateur, keeping in tune with the trends or, better yet, becoming a trendsetter has become an imperative. In parallel, excellent service has become a given that is no longer the competitive advantage it used to be. This is why hospitality and tourism businesses have to differentiate themselves in innovative ways.
The secret of success in the sector lies in creating incomparable experiences for your clients, whether they are hotel guests, travellers on a fixed tour or passers-by in your food business. This is what today's traveller wants, a real event that excites the sense of smell, taste, sight, sound, touch and mind – a break for the digital indoor lives that today's society has engulfed us in.
This has become our main challenge since we launched Le Royal Hotels & Resorts. Beyond our well-known five-star service, we wanted to go the extra mile for our guests and ensure an unforgettable experience for each one. The hotels we built or acquired are very different from one another, a far cry from the cookie-cutter hotel chains that offered the same room from Bangkok to Beirut. Our differences represent our strength, and we collectively decided to celebrate the uniqueness of each destination in our motto, 'experiences to explore'. Our exotic locations and east-meets-west character have also worked to support this distinctive vision.
Each one of our five hotels in Amman, Beirut; Hammamet, Luxembourg, Tangier worked painstakingly on identifying and creating experiences that can be enjoyed inside and outside each property. For the indoor experiences, we introduced inspiring menus with both local and ethnic flavours, novel spa experiences such as vino therapy, an enchanting festive atmosphere for holidays, exclusive gourmet dining menus, rare wine-tasting dinners and heart-warming charity bazaars just to name a few.
This success has been ingrained in our mission, "to create five-star properties with different experiences". Thus, Le Royal became a management company that manages its own hotel, differentiating itself from chains that franchise hotels. Our approach is being supported by a team of experts for different departments (technology, food and beverage, finance, rooms division, etc.) that we put together so that it can harmonize the quality and service in all properties.
Yet the experiences remain very unique for each destination. We have promoted these lifetime experiences in-house, through the media, on our new combined website and of course through social media to reflect our philosophy. Indeed, social media has become a very important element in sharing experiences and learning about new ones.
On another level, our properties in Luxembourg and Beirut are blessed with concierges that are members of the prestigious Clefs d'Or (Golden Keys) organization, a fact which also helps ensure that the guest experience is enhanced to the fullest. We're working to ensure that the head concierges from all our five hotels become members. This brings us to a very important point in the equation, that any experience in any business can be enhanced the human factor. Genuine interest, a desire to help and a positive, friendly attitude towards guests is a must.
In short, beyond the five-star service that every business should offer, creating a unique experience on every level, adding a genuine human touch and promoting your concept in novel ways represents the three keys to success.